Wardarobe
that makes her fabulous
Believe me, I will not, put here all Yuuko's clothes, she has so much of them, that they should have a shrine for only themselves. I'll try to at least show the styles she likes to use, dividing them in few categories and giving pictures. There is only one dress that will be talked about as special, and is her witch robe.
Traditional Style
She has a whole room just to store her whole collection of her Kimonos. It's also the style she probably wear the most. Her kimonos and yukatas have a whole bunch of deferent patterns and one of them is definitely the Butterfly patter – being her symbol. Other patterns are also flowery type like sakura petals. Asside of that patterns, she has some quite non-traditional kimonos like a lace-frilled kind or with fluffy exotic frills, and for special occasions she also has a Valentine kimono (with heats on it) and the polka dots kimono. She also owns some that are properly traditional and lady-like.
Going out Style
These cloths are those she wears to go out, we could call it casual wear. On her you can see adult-looking clothes, but also she loves to put casual pants combination. Under this style goes also the collection of her Chinese-style clothes, I suppose she is very fond of it.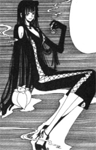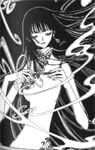 Yuuko Style
This style is composed of her typical fashion, the combination of dresses give an idea of what kind of person she is – someone with style and power.
Witch Robe
The black dress she has when she first encounters Syaoran and his group, is what I call the witch dress.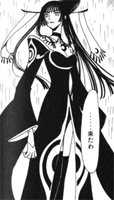 The combination of colors for the witch robe is definitely the pattern of white and black, I like to think it's because of the fact that she gets her magic from moon, and so her robe represents the night with the moon. We can notice that there are lot of small details that try to show that the moon is the one that is important for her magic. It is long, but in front we can see that the legs can be seen, on the contrary of the behind where there is again a pattern that I call moon-magic. The sleeves are long and flowing. The back is bare and even the shoulders have this form that looks almost like a crescent moon. The hair is pulled up in the back and held with a long hairpin.