Addictions
...neccesities...
Alcohol and Snacks
Everybody who read the series has definitely noticed that Yuuko drinks a lot and she drinks "expensive" stuff, showing an impeccable sense of taste.
1. Beer: the first time we see it is after the round of ghost stories at Doumeki's temple, when Yuuko with Mokona enjoy a glass of beer together. Another time is after a game of baseball when Yuuko drinks the Blue Label brand.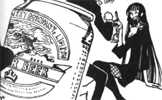 It's full title is "Kirin Lager Blue Label" This is a member of the Kirin Lager Beer series particular known for it's strong beer taste and drinkability. It boasts 50% reduced sugar, for a smoother flavor and finish. This could be good for those watching their calories.

- The official XXXHOLiC guide, p. 130
2. Champagne: she drinks it always when she thinks there is something to celebrate and to get a days "fill of good liquor". That means that she probably drinks it on daily basis.
3. Whiskey: During a game of chess with Mokona the drink to go along is a glass of Yamazaki's whiskey

Suntory's Yamazaki Distillery was the first place in Japan to produce traditional whiskey. Only the finest malts go into this single malt whiskey, which has received international recognition for its sweet fragrance and mellow, deep taste.

- The official XXXHOLiC guide, p. 131
4. Calvados: Yuuko demands a bottle of Calvados to go with the fondant au chocolat that Watanuki made.
The only thing that goes with chocolate is calvados!!!

- Volume 4, p. 7
5. Awamori: is one of the drinks Yuuko chooses to drink along with the fox-spirit oden, but it's also the bottle of the Kuro-shinju brand that she brings as a gift to the fortune teller.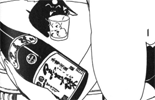 "Ryukyu Awamori Kuro-shinju" is the brand name of a classic "aged liquor" (called kousou in Okinawa) produced by Yaesen Distillery on the Japanese island of Okinawa. Awamori is a rice based liquor that is distilled rather than brewed (unlike sake) and is traditional liquor of Okinawa. This particular brand is made by special traditional process that takes only the choicest part of the distilled base and fragments it in storage for five years. This produces the rich fragrance and unique taste that are his features.

- The official XXXHOLiC guide, p.132
6. Sake: is really loved by Yuuko especially when she can combine it with watanuki's teppan chicken, while during the Akari (cat-shaped visit)'s visit they drink together the Hatsukame brand.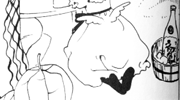 Hatsukame is a brand of traditional sake made by Hatsukame Brewerly in Shizuoka. Since its opening in the first year of the Meji Era (1868), it has received many awards, including the National Diamond Award in the 1960s. The combination of traditional secrets and cutting-edge technology ensures a consistent and excellent product.

- The official XXXHOLiC guide, p.133
7. Makkori: is the drink that Yuuko decides will go well with the Korean noodles that Watanuki will prepare for dinner.
Also spelled makkolii or makgeolli, this traditional liquor is similar to the cloudy doburoku sake in Japan. It uses rice and flour as a base, and the lactic acid from yeast fermentation involved gives it slightly sweet and sour taste. In Japan, this beverage can be found primarily in Korean restaurants.

- The official XXXHOLiC guide, p.133
Necessities
There are some things that for Yuuko are simple necessities and she uses them daily and in her common practices. Those examples are :

1. Kodansha Japanese Desk Dictionary – she loves to quote from it when defining difficult words.

2. Puppet (duck) – the duck puppet that was the one that gave Watanuki first kiss, something she uses to make Watanuki angry



3. Old timer phone
– it's the phone in her shop, an old-fashioned, rare rotary phone.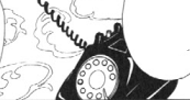 4. Tobacco pipe
– she is not Yuuko without it, she puts a rounded bit of shredded tobacco into the gooseneck bowl and then lights it to smoke.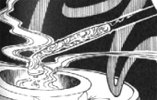 5. Eki-Yakabe
– the cure for hangovers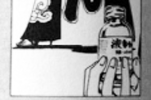 Anime and Manga
During the series we can catch the fact that Yuuko makes lot of references to many old anime and manga hits. Watanuki loves to call them "pre-war".
The some of the manga that she refers to are: Macaroni Houren-sou by Tsubame Komogawa. Then she uses a line said by Goemon Ishikawa from Lupin III. She refers also to Hojo's Cat's Eye at one moment .
Mokona Patterns
During the series we find out that there are lot of things with mokona patterns on it that have place in the shop. At one point she plays chess and we can see that the pieces are styled after Mokona. When she plays cards with Maro and Moro, they are Mokona-themed cards, aside the fact that also her plastic pool has a design of white and black Mokona on it.